Kitchen Inspirations For Large Families
Kitchen Inspirations For Large Families
Whether you are looking to remodel your kitchen for a big family or just looking to update your current kitchen, there are a few ideas that you can implement to make it more functional. One idea is to utilize a G-shaped layout and open shelving. Another idea is to use pull-out units. In addition, there are storage baskets and island benches that you can consider.
G-shaped layout
Whether you have a large family or a small one, G-shaped kitchen layouts provide a practical work triangle and ample cupboard space. These compact designs also offer a sense of space. They allow for a pass-through, creating a soaring open feel. Depending on your location, they can work best in medium to large spaces.
G-shaped kitchens have a variety of styles and configurations, but there are some basic tips to help you create a functional layout. These include placing the refrigerator near the walkway, leaving adequate access to the work center, and keeping the island clear of too much cabinetry.
A G-shaped kitchen is a tight fit, so consider the impact of the visual impact of the layout before proceeding. This means using a handwritten drawing of the space, including all measurements.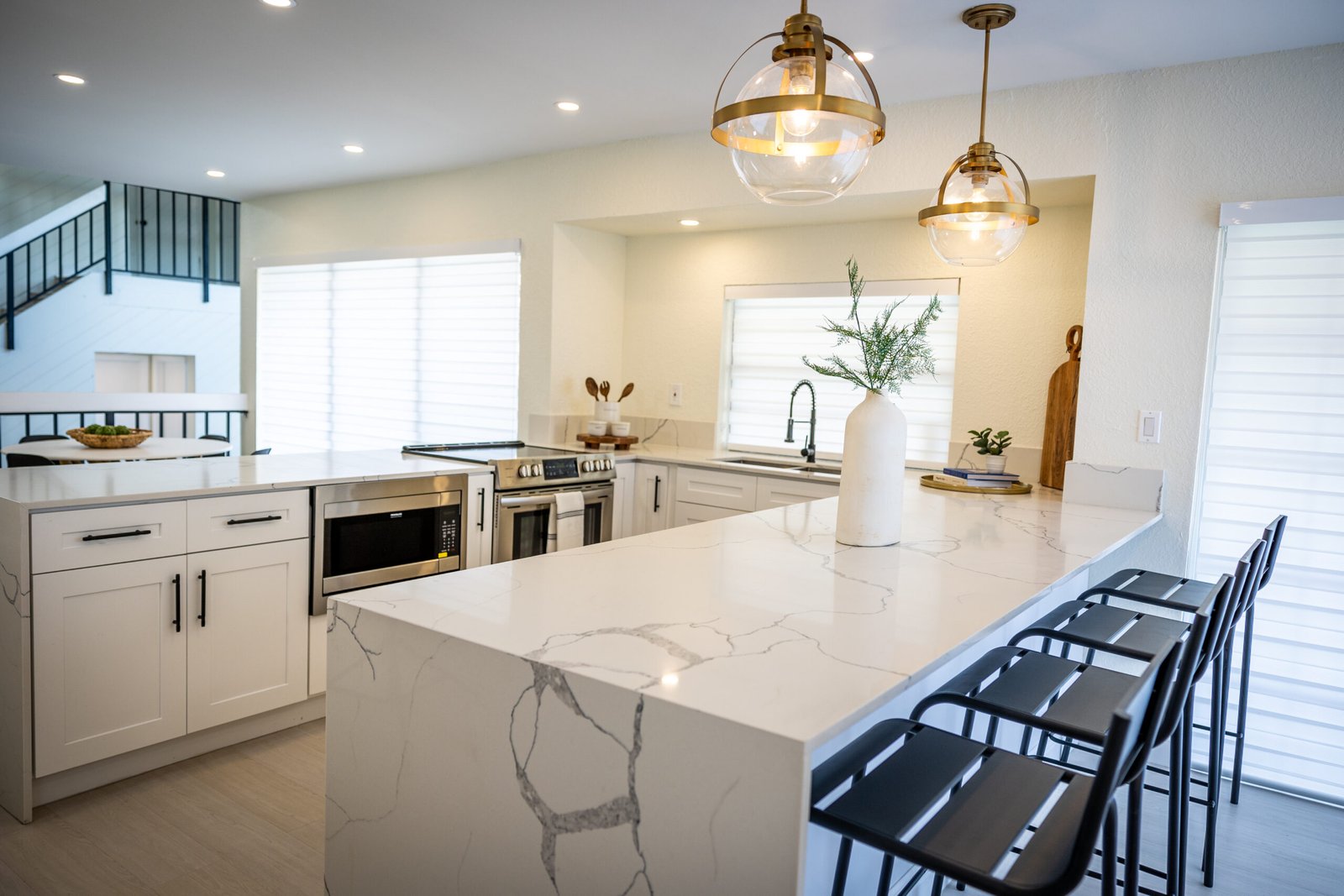 Open shelving
Having an open shelving kitchen is a great way to accent your design scheme. However, it's not for everyone. While it may be an eye-catching feature, it can also be a tripping hazard.
The most important thing to consider is safety. If you're planning on using this type of shelf for storage, consult with a contractor to ensure that the area you're using is properly secure. If you plan on putting heavy items on the shelves, make sure that you're using sturdy anchors.
While you're at it, you may want to include a couple of sconces. This can light up the dark corners and add a final touch to your kitchen design.
You can also try adding a message board. This will allow you to leave messages for family members on the shelves.
Island benches
Whether you're cooking for a large family or simply having friends over for dinner, an island bench in the kitchen is a great way to add extra seating and valuable storage space. You can choose a small, portable unit or one that is built in and plumbed for a sink.
A large family has a lot more glassware and pots and pans than the average household. This requires more storage than a typical kitchen design. In order to get the most out of your new island bench, you must consider your family's needs and existing storage space.
A wide island bench will provide you with more room for food prep and entertaining. This is especially important if you're planning on incorporating bar stools into the mix.
Storage baskets
Using storage baskets in the kitchen can help you keep your home organized and clutter free. These simple storage containers come in a variety of sizes, shapes, and materials. They can be placed on a shelf, cubbie, or in a cabinet. You can also use them in an entryway, in the bathroom, and in the bedroom.
These multi-functional containers can store items such as spices, vegetables, books, and even fresh produce. Some have lids for easy access. You can also place these containers under furniture to increase the amount of storage space.
These baskets are made from durable, long-lasting materials. They are sturdy and stylish. They're available in a variety of colors and shapes, making them ideal for your home's decor.
Whether you're looking for an organizer for the kitchen or pantry, or a decorative item to place in your entryway, these baskets will fit the bill.
Pull-out units
Having a good old fashioned kitchen makes for a great family hangout. It is a wonderful place to eat, drink, and be merry, so why not make it the best it can be? The best kitchens are well lit, spacious, and contain no clutter, making them the epitome of home ownership. It's a great place to do your homework.
The best kitchens also incorporate modern features like granite countertops, backsplashes, and tile floors. You'll need to be patient, but the rewards can be well worth it. If your budget won't allow for a full renovation, consider installing a new island and matching countertops to create a more modern, functional space. You'll be amazed at how much better you feel when you can actually cook in your own home.